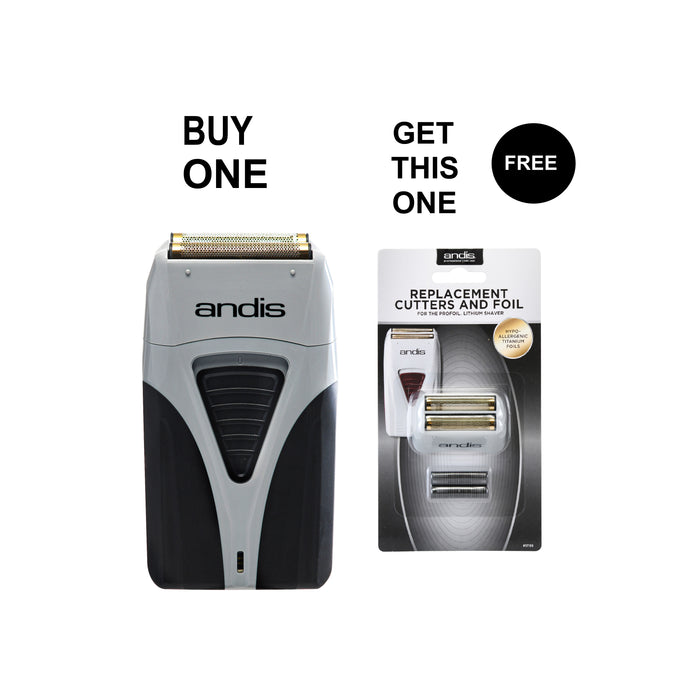 ANDIS Profoil Plus Lithium Titanium Foil Shaver with Foil Replacement & Cutter Model #AN-17200, UPC: 040102172007
ANDIS Profoil Plus Lithium Titanium Foil Shaver with Foil Replacement & Cutter Model #AN-17200, UPC: 040102172007
Achieve the smoothest fades with rich, gold titanium foil heads that expertly pare hair down to the skin without irritation. Pushed forward by a powerful rotary motor, the ultra-lightweight case was made for agility and razor-close cuts. Clean up edges and eliminate stubble all afternoon. Extra long-lasting lithium-ion power means non-stop smooth finishing, while the premium, snap-in charge stand keeps your instrument always within reach. Push beyond ordinary with the ProFoil Lithium Plus Titanium Foil Shaver.
Features & Benefits:
Gold-Titanium Finish
Premium Stand
Sleek, Light Body
Soft Grip
ProFoil Lithium Titanium Foil Assembly and Inner Cutters (17155)
You don't just cut hair. You craft wedding-day style, boost confidence for job interviews, and lay the foundations of everyday personal expression. Coated in rich, durable golden-titanium, these fine, glossy foils effortlessly finish fades and shave down to smooth skin for silky, polished looks. Ultra-strong inner cutters make quick work of stubble and hair of all types and textures. Expertly designed for the ProFoil® Shaver series, the set includes detailed instructions, making assembly replacement quick and easy.
Features:
Gold-Titanium Finish
Hypoallergenic Foils
Perfect Fit
Razor Precision