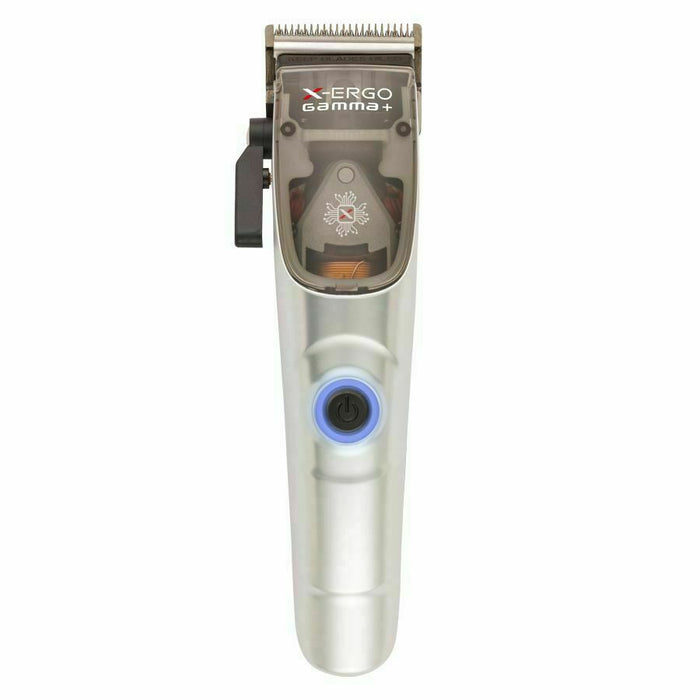 GAMMA+ X-ERGO Professional Cordless Modular Clipper (Matte Chrome, Gold & Rose Gold) DUAL Voltage Model #HCGPXERGOMS, UPC: 850014553975
Gamma+ X-ERGO Professional Cordless Modular Clipper #HCGPXERGOMS (Dual Voltage)
INCREASED TORQUE 9V MICROCHIPPED MOTOR
The magnetic motor, the holy grail of clipper motors, just got souped-up. Already considered the most heavy-duty and professional motor, the X-ERGO features the latest in magnetic motor technology with a microchipped PC board and 9V motor for even more power and torque.
This turbocharged long-life magnetic motor runs at 10,000 strokes per minute, not only offering the ultimate in speed, power, and longevity but the quietest performance of any professional clipper.
PERFECTLY BALANCED MODULAR ERGONOMIC DESIGN
The fully modular X-Ergo clipper includes Matte Gold, Matte Rose Gold, and Matte Chrome body kits to create different custom modifications.  The transparent thumb rest is engineered to be perfectly balanced in your hand. The X-Ergo features customizable taper options for the most consistent results. 
BLACK DIAMOND CARBON DLC BLADE
Fully adjustable DLC fixed taper blade with DLC shallow cutter can be easily zero gapped for the closest cut and finish. Highest quality Black Diamond Carbon DLC blade stays cooler, rust-free, and sharper longer. 
NEXT LEVEL CUSTOMIZATION & LONG BATTERY LIFE
Featuring never before seen customization options the X-Ergo offers 3 varying lever choices: 2 click system levers and 1 floating system lever. Also included, Tight or Stretch taper bracket kits for long or short taper options. With a 120 minute cordless runtime and 105 minute re-charge. 
MICROCHIPPED MAGNETIC MOTOR WITH MAGNETIC GUARDS
The X-Ergo is equipped with a turbocharged, microchipped motor. Operating at lightening speed the X-Ergo runs at 10,000 strokes per minute, fine tuned for maximum power. 
MAGNETIC GUARDS & BRACKET OPTIONS
A complete set of 8 professional double neodymium magnetic guards are included. Designed and engineered to prevent clipper blade teeth from rubbing and an advanced hair channel system on outer teeth for improved feeding of hair to the blade. Magnets are securely fastened to the guards and will not fall off. The double magnet system ensures your guards will stay in place during your haircut. Also included is a special stretch bracket designed to be used with the floating (non-click) lever. Use this bracket to extend your taper to a full #1! 
ATTENTION TO DETAIL
Includes: 1 Year Warranty, stretch and tight brackets, charging stand, pass-thru cord (for corded or cordless use), 8 double magnetic guards, 3 lids, transparent thumb rest & cleaning/maintenance kit. Convenient mini screwdriver for blade regulation and custom body modifications.