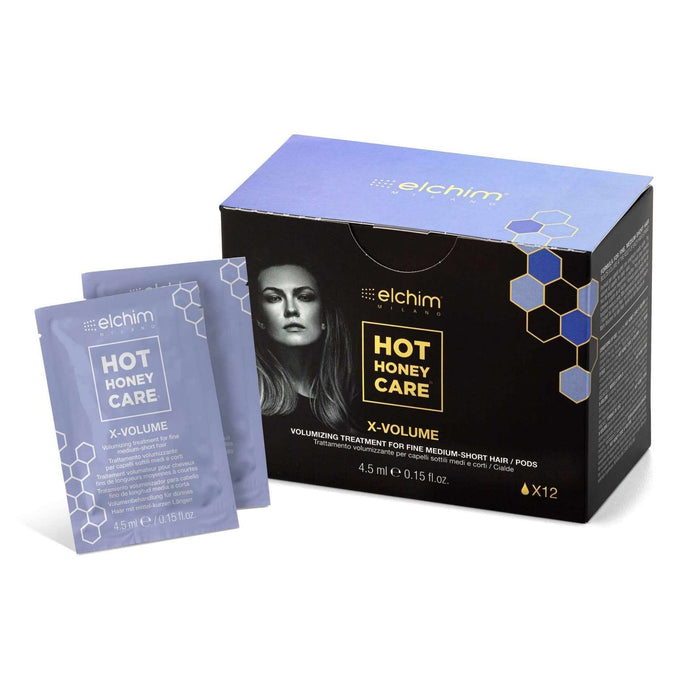 ELCHIM Hot Honey Care X-Volume Pods Model #EL-842000010, UPC: 836793004334
ELCHIM Hot Honey Care X-Volume Pods Model #EL-842000010, UPC: 836793004334
Hot Honey Care X-Volume developed by Elchim laboratories is the only 3 in 1 system to dry, style and volumize the hair in one single pass.
The treatment, combined with the use of Elchim hair dryers, transforms the hair during drying and styling with an immediate effect. The heat and air flow of the hairdryer activate the natural principles of honey and soy and wheat amino acids with a uniform distribution over the hair lenghts.
By inserting the X-Volume pod into the special concentrator nozzle for your Elchim hair dryer, you can immediately get a visible volume and softer and shinier hair.
Features & Benefits:
Extra Volume: goodbye flat hair! More volume to the hair from the roots as well as shine and softness
Immediate effect: your hair will have more volume at the roots and you will get extra shine.
Uniform distribution: unlike conditioners and other products, Hot Honey Care uses heat to spread evenly during drying and styling