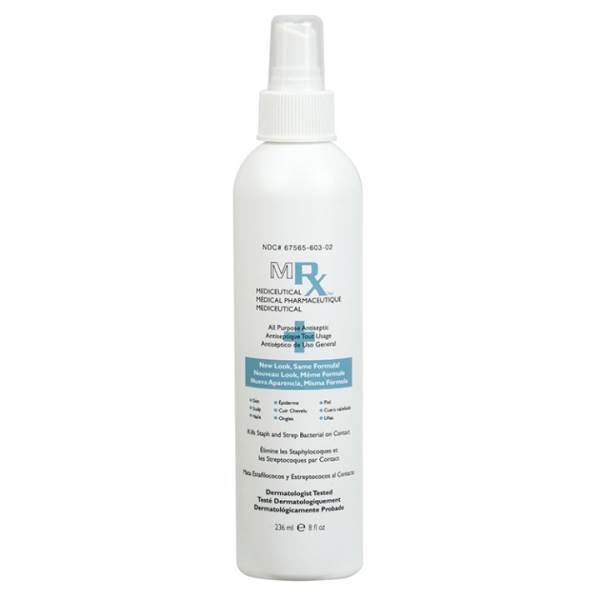 GENA Mrx Antiseptic, 8 Oz w/Spray Model #GN-01508, UPC: 037529015086
GENA Mrx Antiseptic, 8 Oz w/Spray Model #GN-01508, UPC: 037529015086

Features & Benefits:

ALL-PURPOSE ANTISEPTIC, IDEAL AS A DAILY CLEANSER: Pamper your hands and feet with MRx Antiseptic Spray from Gena! An all-purpose antiseptic that can be used on everything from controlling acne, and flaky scalp, to cooling burns and sanitizing cuts. This topical disinfectant spray protects newly injured skin from further tearing and soothes the damage you've already done! It helps prevent infection, soothing local anesthetic numbs the pain to relieve itching and irritation of minor skin injuries

PREVENTS CONTAMINATION AND THE RISK OF INFECTION: Bacteria is everywhere no matter how much we despise them. They get into the smallest of cuts and can even cause infections. Protect your skin from infections with this Antiseptic Splash from Gena that helps to protect damaged skin while encouraging the healing of minor cuts and burns along with nappy rashes, blisters, and sunburns. Simply apply the sanitizing mist over the affected area two to three times daily and you're all set!

KILLS STAPH AND STREP BACTERIA ON CONTACT: When you need to sanitize, but you won't have access to soap, let alone the Gena MRx Antiseptic Spray gets the job done for you! It is infused with antimicrobial antiseptics that cleanse the wounds to neutralize and kills away staph and strep bacteria on your skin. It will satisfy the skin's demand for comfort right away. You can depend on this Antiseptic Mist for relief on demand!

PROTECTS SKIN FOR FASTER HEALING: Gena MRx Antiseptic Spray provides an excellent wound healing environment while slowly releasing antibacterial iodine into the wound bed. It keeps the wound bed moist and slow-releasing an antibacterial agent into the wound site. This germicidal spritz applies smoothly and absorbs well, without leaving an oily or greasy residue that rubs off onto clothes!

SOOTHES REDNESS, INFLAMMATION AND DISCOMFORT: The active components in the Gena MRx Antiseptic Spray expedite the healing process by soothing the skin, reducing pain and stimulating skin growth and repair. It will provide immediate relief to sensitive skin, reducing redness and discomfort. This super potent spray features a blend of ingredients that fight inflammation while keeping your skin comfortable throughout the day! Try it today for healthy and renewed skin!