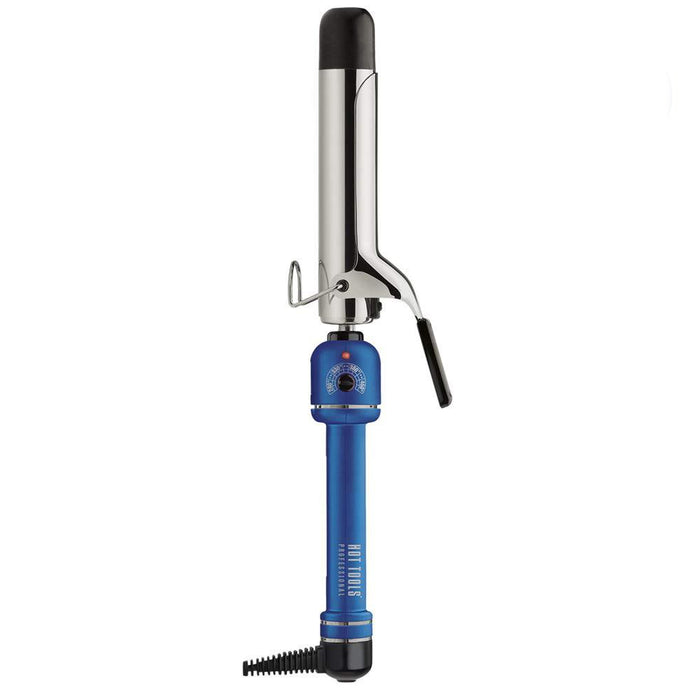 HOT TOOLS 1 1/4" Salon Curling Iron/Wand Radiant Blue Model #HO-HT1110BL, UPC: 078729191101
HOT TOOLS 1 1/4" Salon Curling Iron/Wand Radiant Blue Model #HO-HT1110BL, UPC: 078729191101
Take this 1 1/4" titanium salon curling iron/wand for example. The combination of the cobalt blue handle and shiny metal barrel are striking to say the least. And when it comes to creating the curls, glamorous sets and beach waves you live for, it performs like a star! You get shiny, long-lasting, defined sets that support every hairstyle of your dreams! Super strong and super lightweight, titanium is the most modern material around for thermal tools. It provides even heat distribution from the top to the tip of the curling iron barrel, which means each of your curls or waves will be consistently and perfectly formed. Plus, it is corrosion-resistant, so go ahead and grab your favorite thermal or styling spray. And the proprietary Micro-Shine technology leaves every strand sleek and lustrous. Heat surges lead to hairstyle fails, and that's never a good thing. Thanks to HOT Tools' unique Pulse Technology, this curling iron heats up fast and stays consistent for as long as it's switched on. If you do turn it off, it re-heats quickly, so you're not wasting your precious time waiting on your curling iron to get hot! Curling irons can be difficult to handle for many people, but this one makes it easy. Features like the soft handle helps you keep a firm grip, and the powerful spring grip helps prevent your hair from slipping out. Hair glides easily around the barrel without snagging or tugging, and thoughtful touches like the extra-long thumb grip and cool tip contribute to the balanced ease of working with this iron. Voltage: 100V.
Features & Benefits:
Pulse Technology maintains consistent temperatures.
Micro-Shine feature helps to reduce friction and damage.
Rheostat control dial offers variable temperature settings up to 450 degrees for a variety of hair types.
Soft Touch Handle for comfortable and secure grip.
Extra-long cool tip and thumb grip to rest fingers and help prevent burnt fingers while styling.