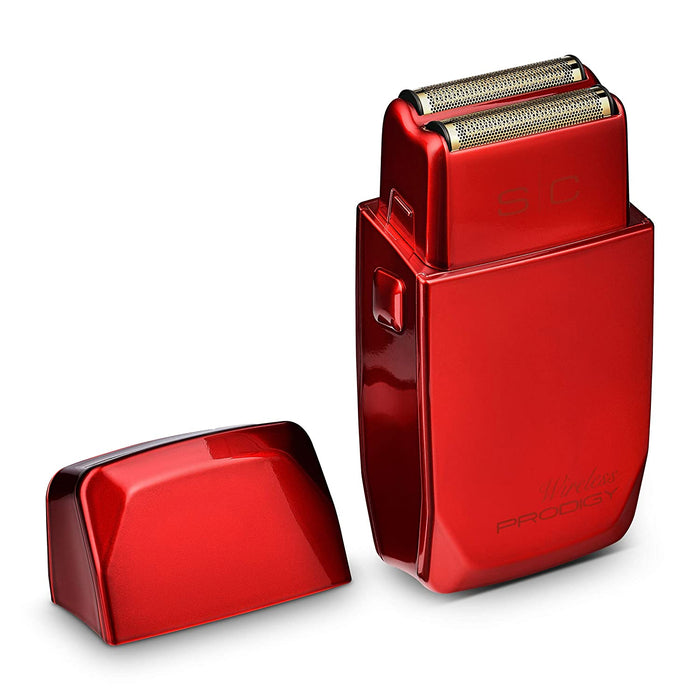 STYLECRAFT Wireless Prodigy (Shiny Metallic Red) - Professional Turbo-Charged Smart Contouring Foil Shaver Model #ZZ-SCWPFSR, UPC: 850014553661
STYLECRAFT Wireless Prodigy (Shiny Metallic Red) - Professional Turbo-Charged Smart Contouring Foil Shaver Model #ZZ-SCWPFSR, UPC: 850014553661
The StyleCraft Cordless Prodigy Cordless or Corded Foil Shaver is equipped with a turbocharged motor for more powerful shaving that runs at 9,000 strokes per minute. This allows shaving that has less drag while also giving the closest shave without irritation. Another feature is it is designed with staggered independent gold titanium forged cutter blades that have hypoallergenic properties. The ultra-thin gold titanium foils last longer and are great for all types on skin and sensitive skin. Ergonomically designed with corded or cordless operation, the simple interchange of the cap and removable foil head assembly makes it modular and customizable for body color options. One of the coolest features about this device is the cord-free charging technology that is compatible with any Qi charging pad. The Lithium-ion battery delivers 2 hours of cordless operation and just 30 minutes to fully recharge.
Features & Benefits:
Turbocharged motor runs at 9,000 strokes per minute for more powerful shaving and less drag.
Built-in Wireless Charging technology compatible with QI wireless chargers.
Super-close cutting, ultra-thin, hypo-allergenic gold titanium foils keep even the most sensitive skin free of razor burns, ingrown hairs, or skin irritation.
Staggered, independent, smart contouring shaver heads adjust to any shape for the closest possible uniform shave.
Lithium-ion battery delivers twice the standard runtime, with 120 minutes of cordless operation per charge.
Superior gold titanium forged cutters for increased power with hypoallergenic properties.
Includes removable cap, universal micro USB charging cord, and adapter.
Ergonomic design with corded or cordless operation
Rapid recharging in just 30 minutes.