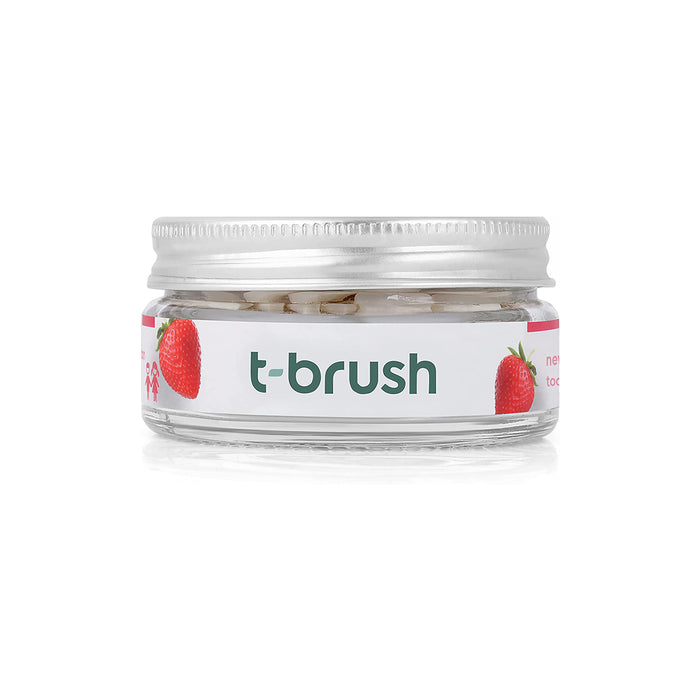 T-Brush Strawberry Flavored New Generation Toothpaste - 90 Tablets
Save

Liquid error (snippets/product-badge line 32): Computation results in '-Infinity'

%
T-Brush Strawberry Flavored New Generation Toothpaste - 90 Tablets
Although all of our products are made with suitable content for all age groups, we have also developed a special collection for children age groups. Instead of toothpastes that are sticky and richly flavored, we have prepared completely natural and ideal essence products for our children. With T-Brush Dental Tablets, we aim to raise healthy generations by making tooth brushing more enjoyable for children aged 6 and over.
Usage:
Crush and Brush!
The tablet taken in the mouth is bitten and chewed with the help of the teeth on the back, then the teeth are cleaned by brushing with a toothbrush and the mouth is rinsed with plenty of water.
Product Components:
Sodium Bicarbonate, Tartaric Acid , Citric Acid Anhydrous, Microcrystalline Cellulose, Fragaria Aroma, Calcium Carbonate, Polyethylene Glycol 6000, Sodium Cocoyl Glutamate, Steviol Glycosides Rebaudiana Extract
Features & Benefits:
Natural And Vegan Toothpaste Tablets: t-brush toothpaste tablets are free from SLS, Gluten and Titanium Dioxide. They do not contain any food of animal origin and are produced in a GMP certified factory without any experiments on animals. with Eco Friendly Packaging and reusable glassbottle.
Easy To Use: t-brush toothpaste Tablets crush with teeth and chew , brush for 2 minutes , rinse with water. Provides just the right amount of toothpaste every time you brush.
Ideal For Travel: If you travel often and love camping, keeping your teeth clean and breathing fresh can be difficult and sometimes impossible to carry toothpaste. Thanks to T-brush toothpaste tablets, you can get rid of these troubles.
Hygiene: The use of traditional toothpastes causes that any diseases might be spread to family members especially in case of pandemics. Unlike traditional methods, we completely eliminate the contact of the toothbrush with toothpaste with our innovative toothpastetablets. We provide hygienic use by preventing the growth of bacteria and viruse spreading among family members with new generation, personalized, toothpaste tablets.
Customer Satisfaction Guarantee: In order to offer you the perfect experience, we have developed our products in cooperation with two leading universities in the field of pharmacology and medicine and worked with the world's best raw material manufacturers. And again, in primary and secondary packaging, we have worked with FSC certified supply, showing special environment to sound.