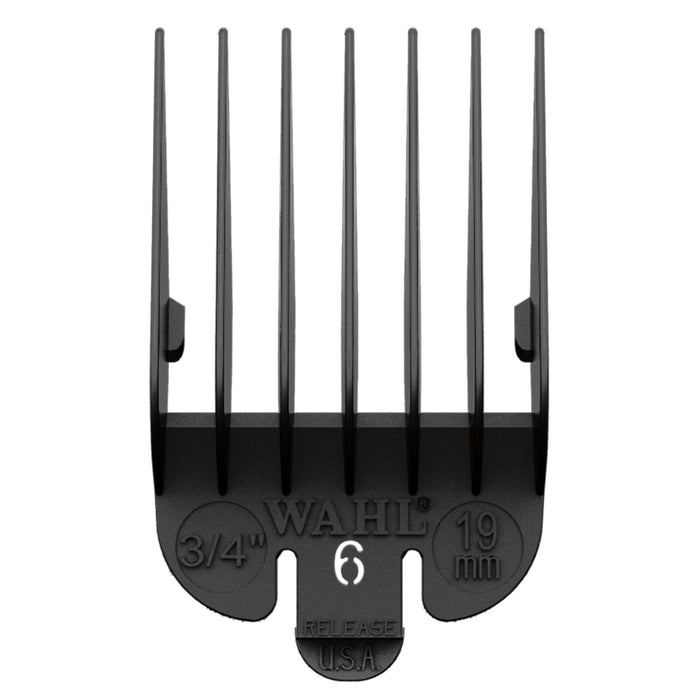 WAHL Attachment Comb, #6 - 3/4" Model #WA-3174-001, UPC: 043917228013
WAHL Attachment Comb, #6 - 3/4" Model #WA-3174-001, UPC: 043917228013

The #6 Cutting Guide comes in Black (3174-001) or Lavender (3174-1103) and measures at a cutting length of 3/4". The Wahl Professional Cutting Guides fit all full-size Wahl Professional blades excluding the Competition Series and 5-in-1 Magic Blades.

Features & Benefits:
PROFESSIONAL PRECISION: From Wahl Professional's commercial grade line of products, the #6 Guide Comb Attachment is intended for professional use only and is designed to deliver the sharp performance that experts demand.
CONVENIENT ACCURACY: The #6 Guide Comb Attachment Comb Attachment provides a secure fit to most Wahl full-size clippers to prevent any accidents or mishaps with slipping attachments. However, you can release them easily and change them out for a perfect fade. Easy, durable, and reliable, you'll need the whole line.
GREAT FOR BARBERS & STYLISTS: This attachment is ideal for pro barbers and stylists, it is definitely an attachment any hair cutter should include in their arsenal.
PRODUCT SPECIFICATIONS: Package contains (1) Wahl Professional #6 Guide Comb Attachment. Black in color and provides a 3/4" (19.0mm) length. Fits all Wahl full-size clippers blades except for Competition Series blades and 5-in-1 Detachable blades. Made in the U.S.A.